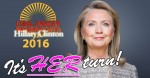 Event Horizon: Hillary Clinton's 'blood circle' of trust
Step aside boys, because #ItsHerTurn! Clinton is going GIRL this week with a fresh new look and ALL-NEW attitude!
She's mighty sick of them lies The Bern's been a-spreadin' and Hill is "going ham," according to one anonymous source . . .