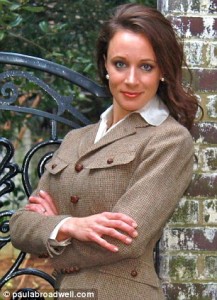 LANGLEY, VA. — CIA bigwig David Petraeus admitted to an extramarital affair with biography-mistress Paula Broadwell, who is now under FBI investigation for snooping through his emails. Internal documents obtained from the FBI and the Office of Senator David Vitter (R-LA) reveal that "Mrs." Broadwell was likely employed by the notorious "D.C. Madam," who "hung herself" in suspicious circumstances.
"Clearly," said the embittered ex-general, who spearheaded a collaboration with Moqtada al-Sadr, "she connived her way into my pants to destroy the good name of the U.S. Central Intelligence Agency."
"Broadwell," which is the biographer's racy nom de plume, is an outspoken advocate for soldiers suffering from Post-Traumatic Stress Syndrome (PTSD). "There is a 30 percent increase in sex crimes among those affected by this epidemic," "Mrs." "Broadwell" "told" "reporters" "this summer."
Faced with the fact that the CIA director was himself the victim of an elaborate media honeypot operation, Mr. Petraeus opined that "Mrs." Broadwell's body was "the ultimate weapons system–a Mayeresque wonderland." Indeed senior Defense Department sources have confirmed to Business Insider that "Mrs." "Broadwell" "got her claws . . . into him."
HOLLY PETRAEUS: "I have cervical cancer."
The general's announcement of his resignation comes amid a time of great turmoil for his family, as his wife and veteran advocate Holly Petraeus announced her October diagnosis of late-stage cervical cancer, which her oncologist, Dr. Angstrom H. Troubadour, says is linked to a case of HPV contracted in December 2011. "This time," said Mrs. Petraeus in tears from the front stoop of her Northern Virginia home, "David has really invaded the wrong gulf."
"Holly has been looking at that yellow wallpaper too long and is in hysterics. How can you get HPV and be in a late-stage cancer less than a year later? What the fuck? What 'weapons system' did that to my wife?" asked a desperately prevaricating Mr. Petraus to a crowd of leering network journalists.
"I was just spending so much time with the troops and their families," added Mrs. Petraeus. "I think he got suspicious, jealous."
"The most common way of contracting HPV is from unprotected sex," said Defense Secretary Leon Panetta, rumored to be on his way out at the conclusion of the first Obama term, adding, "So who did she get it from? The troops and their families? From Mrs. Broadwell via her husband?" The Freedom of Information Act may prevent the truth from coming out for as long as 50 years.
MoveOn.org, who in 2007 ran an anti-American ad questioning the decision to maintain a heavy troop presence to defend freedom by occupying Iraq, says that it now plans to insult the patriotic former CIA director, kicking him while he is down.