MeToo meltdown of the decade? Andy Dick gets a "taste" of his own medicine
Nightclub comic Doug Stanhope was accused by colleagues Tuesday of sexually assaulting fellow comedian Andy Dick – a former contestant on Dancing With the Stars and host of I love the 80s – at a late night gala after Andy refused numerous sexual advances.
Whistleblower

Brett Erickson
Doug's former friend and opening act Brett Erickson told his Twitter following that Doug – after reading salacious rumors of Andy's exploitable drug habits, questionable morals, and sexual promiscuity – invited Andy to his hotel room around three am one morning in November. Andy declined. The following night, Stanhope was spotted assaulting Andy in front of friends and coworkers (pictured below).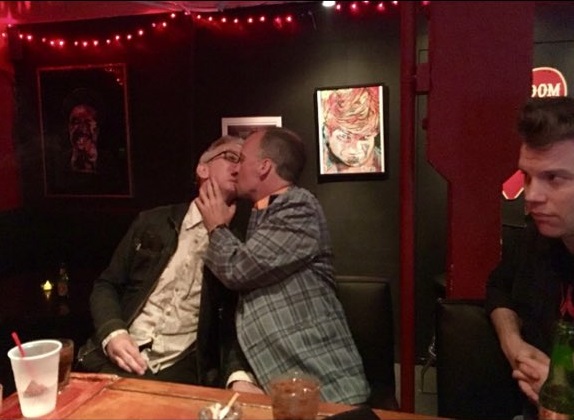 City Attorney's spokesman John Money says misdemeanor sexual battery and battery charges were filed Wednesday. Stanhope, 51, is scheduled to be arraigned on July 18.
Money said Stanhope groped Andy Dick sometime in November 2017, forcibly kissed him, and used Andy's hand to manually stimulate himself.
Stanhope, who once had a bright, promising career in show business as co-host of the Man Show, has spent his 50s slogging about the world telling rape jokes to degenerates in dark comedy clubs. He was spotted last April at Ground Zero, for instance, in Spartanburg, South Carolina, sucking around with Brett Erickson and an accomplice they called "Chaley."
Dr. Angstrom H. Troubadauer, Professor Emeritus of Social Sciences at Lebal Drocer University in Southern California and former stagehand to Dick, said he's seen performers "go for alpha" by upstaging, abusing, and ridiculing the bisexual comic before adoring audiences. He said some comics take this behavior too far, going so far as to try to outdo Andy in every way, even if that means engaging in a set of behaviors intended to topple Andy's top-sex-predator-status and claim it as their own.
A case of upstaging gone too far
"No doubt Doug wanted to get his stinger wet," Troubadour said. "And he wanted to win the approval of his peers at the World Famous Comedy Store in LA. Who doesn't? But he took it too far, forcing himself on Andy. I mean my god, Andy was abused as a child, some 40 years ago. He's already been through so much. That's why he groped that girl in April."
Stanhope's representatives have not responded to calls for comment, and may not actually exist.