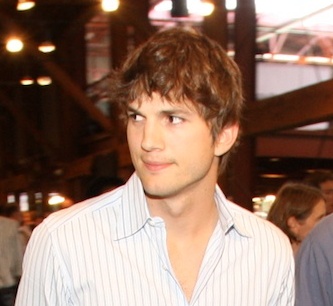 HOLLYWOOD – Earlier this morning Ashton Kutcher stepped onto the set of Two and a Half Men and into the shoes of Charlie Sheen, only to collapse and die within an hour. Two and a Half Men is the greatest television program of all time.
Kutcher arrived to his first day on set drunk and accompanied by a cadre of male porn stars. Before shooting a single scene, he reportedly tried to "bang 7 gram rocks" in an attempt to live up to the bombastic performance of Sheen. Kutcher's face was entirely melted before medics arrived. They were unable to revive him.
"You'd think it'd be a half-ass job for any experienced actor to play a smarmy, cock-sure bachelor in a bowling shirt on television. That's not the case," commented Sheen, "that pathetic little troll has no Tiger Blood! I told you nobody could handle a dose of Charlie Sheen!"
Meanwhile, Charlie Sheen's disintegrating acting career has devolved to the lowest level: YouTube and Twitter. Sheen's Twitter account, the fastest growing in the history of mankind, avoids all the self-destructive fun and serves only to promote his new "jeered-off-stage" comedy tour.
Hollywood elites have approved a new Blu-Ray version of Apocalypse Now: Special Edition, in which Martin Sheen's face is modified with CGI to look like his son, Charlie, the greatest actor of all time. Charlie Sheen refused to accept any payment for this role except in the form of the purest Colombian Cocaine from his favorite artisan Cocainery.
Ashton Kutcher will not be missed.