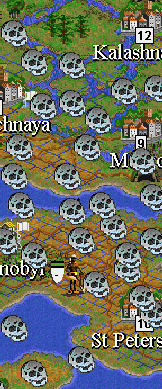 Boredom advocate group Mothers Against Violent Videogames (MAVAV) came out in opposition on Saturday against the popular Civilization game series, of which there are now more than six installments.
The game's depiction of cartoon powermongering and racially static world leaders teaches children it's OK to indulge in dangerous lust for power, the group said. Top Trump advisers have repeatedly tried and failed to wean President Trump from his 18-hours-per-day gaming habit, but the Don was having none of it.
"I'm learning from this game, this is true," Trump said. "And the more I learn about the barbarians to our South, the higher that wall gets. In this game, you've got to be tough."
Melania went on MSNBC to express her frustration with Donald's gaming habits.
"I warned him those videogames are no good. Donny wouldn't listen," the future First Lady said. "I said Donny, it's time for bed. It was my breeding time. He said, 'Just one more turn. I'm moving on Dido like furniture!' He got hooked on Civilization II and hasn't been the same since Brave New World expansion pack."
Sources say the nearby barbarian village Trump inherited from the Obama administration no longer produces gold on each kill, despite early adoption of the Honor social policy that also grants culture bonuses for every killed terrorist. An injection of war funds will most certainly bolster our yawning economy.
"She said get off the game, and go to the library," Trump said. "I told her 'Oh, should I go to a library?' Well, I know how you all feel about the barbarians to the South. I know it. I hear your voices. But if you think barbarians are bad, folks, wait until you go to a library. Because you know what they have at the library? Librarians."
MAD DOG SWATTING AWAY TERRORISTS