FABLED SOVIET DREAM COME TRUE!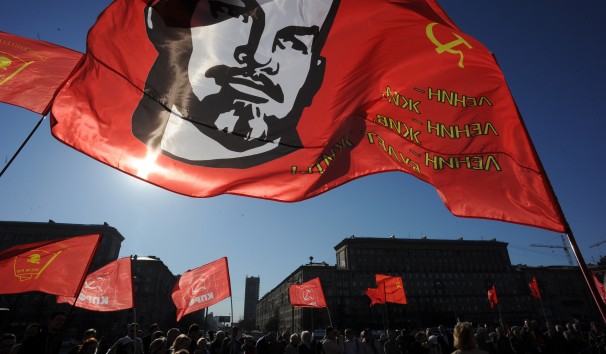 It's a power grab, and it's taking place NOW. Russians rallied in their fortuitous nation's capital city Monday, celebrating their God-King's rise to power, Vladimir Putin. Putinists ate their TerrorBloc and set eyes on the skies, hoping to catch a glimpse of more than 100 chemtrail-spewing MiG-35's, which showered the nation with power – a beautiful display of Soviet dominance.
The Soviet Revolution taking place in Russia spells hope for the power elite who hope to instill a love for their hatred of the allied states: USA, England and Capitalist Venezuela.
Comrade Putin has issued the following edict: all bloggers garnering readership greater than 3,000 people per day must register with the central government or face up to five years' detention. We would like to take this opportunity to extend our deepest gratitude, as a former soviet newspaper, to Comrade Putin for his courageous efforts from Moscow. We are currently in the process of attempting to register as a new Soviet mouthpiece for the state.
GLORIOUS AND INFALLIBLE CHRONICLE.SU staff eagerly await Putin's decision to accept the website into Mother Russia's nurturing bosom; her nuclear-backed peace garden.
What's next for the Internet Chronicle at chronicle.su? Only time will tell. But for now, the website has thrown its full support behind our new Commander-In-Chief – Vladimir Putin – Patriot God-King.