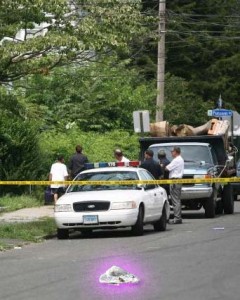 TERRYVILLE — The Terryville police finally got a chance to wheel out their mobile command unit and armored personnel carriers as downtown Terryville panicked when a suspicious plastic bag was left in the middle of main street by an unknown cowled man with a forked beard. The suspicious bag seemed to emit a pink mist as citizens and officers eyed it with increasing unease and terror. Terryville's professional bomb squad detonated the bag, leaving a ten foot crater on main street, but analysis of the bag's debris show it only contained an empty coffee cup from the Terryville 7/11.
Jeff Plenary told local television reporters, "You ever heard of nanothermite? Just a few grams of it and Terryville would be a smoking crater. Thank God it was just an empty cup in that bag. Better safe than sorry, I say. Thank God for the strong, militarized police force." Plenary's delightful, provincial account instantly went viral on the internet, where The Gregory Brothers autotuned it into a charming and catchy music video that has been viewed seventy million times already.
The Terryville SWAT team activated emergency terrorism provisions and tore through every closet and basement in Terryville, looking for the fork bearded man, who remains on the prowl. If you have any information on the identity or the whereabouts of the fork bearded man who may be responsible for the terroristic littering threat you are encouraged to contact Terryville's terror hotline. Any bearded men should register at the police station before 4 am Sunday morning. Bearded men who fail to register will be charged with obstruction of justice and aiding the enemy.