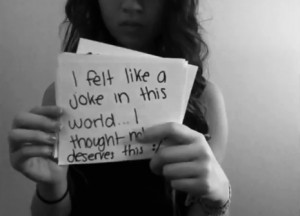 Amanda Todd never died; she transcended the mortal plane to become The Patron Saint of Internet Meme Suicide.
Her viral video, I'm sure, is a perfectly fair and balanced account of her life which spread like a disease through the internet only as a consequence of how true it was. Nothing suspicious about it at all.
In death, she is a sacred celebrity, the most valued of human beings, and her enemies are being punished. This can't all be by design, of course. Innocent young women would never create emotionally manipulative videos. Amanda Todd's salacious underage topless pics, which were oh-so-innocent, are more widely distributed than she could have ever imagined. She has both exacerbated and escaped her nightmare scenario, bringing a whole new suicide format back from beyond death.
[pullquote]"Oh, isn't that sad suicide note video just awful?" Retweet. Share. Like. Repost. "Those bastards who drove her to post this video are to blame." ~ The People Who Are Really To Blame.[/pullquote]
You gullible pieces of shit.
Do you not realize what you've done? Now every fucking time some depressed, attention starved teenage suicide video goes viral, the millions of views will be a measure of how much you are to fucking blame for every girl who is inspired to copy her.
This isn't even the beginning.
Amanda Todd felt "like a joke in the world," and now she's a bigger joke than any other suicide in the history of the human race. She's died to bring forth the rotten fruit of social media suicide fame.