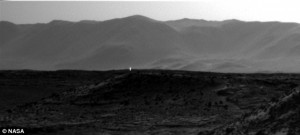 OLYMPUS MONS — Final and incontrovertible proof of intelligent alien life was photographed by Nasa's Mars Curiosity Rover, Tuesday, and even the most skeptical scientists are hailing it as the biggest scientific discovery in the history of mankind.
Aliens remembered only as the Nephilim in Hebrew texts or the Annunaki on Mesopotamian clay tablets intervened at the birth of human civilization and built stone monoliths that may have once acted as glowing navigational beacons. Because of several millennia of weathering, these beacons no longer emit light, but it appears the beacon photographed by Curiosity is still glowing even today, emitting its hyper-radiant superliminal telemetry to the center of the fallen Annunaki empire.
As a fringe colony of the Annunaki's galactic empire, Earth was one of the few planets that did not adopt the Annunaki's administrative and organizational patterns when the ruling Annunaki elites abandoned the colony. Because of this, Earth has suffered thousands of years of barbarism, infighting, and economic instability which has left humanity completely open to alien invasion. The Annunaki's legacy, however, is visible today as a clear strain cutting through myth and art across the globe, pointing to an ancient history when Earth was a remote outpost of the civilized galaxy.