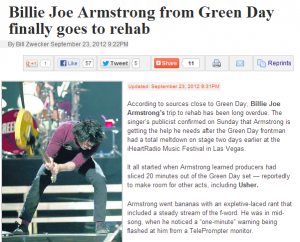 Rock 'n Roll DYSTOPIA–Billie Joe Armstrong, famed pop punk rock teen idol, cursed at the audience and smashed his guitar in a totally inappropriate meltdown which threw the band's public relations agents into a tizzy. The other members apologized on behalf of Armstrong, who is currently in 'rehab'.
"I can't believe he said the f word. He was scary," said one twelve year old fan.
"The violence was just too much. Breaking things? That's a no-no. I took my daughters home immediately," said a concerned mother. "I'm glad he's getting help, but that's the last time we go to any more Green Day concerts."
Promoters no longer allow slam dancing at Green Day concerts, and all stage dives are a total sham. Each show, Billie Joe coerces one audience member to jump into a ready group of stage-hands who are all properly insured and trained for catching stage divers.
"It used to be smashing guitars and cursing at the audience was rehab. The token trip to 'rehab' is a sham and everyone knows it," said Iggy Pop, who is no longer allowed to smear peanut butter on himself and the audience because of insurance concerns about severe allergies.
Billie Joe failed to break the guitar with a single blow.