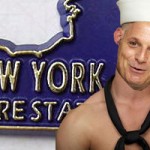 INTERNET – The Internet Chronicle is proud to announce we will disable access to the chronicle.su domain for all homosexual readers. This change goes into effect immediately.
Under a fresh new Indiana ruling, chronicle.su is no longer required to cater to the godless homosexual agenda. As a result of this important change, our expert staff of writers and editors will be running more stories about sports, videogames, literature and war.
It's about ethics in journalism journalism.
Dr. Angstrom T. Heterodauer
All complaints should be registered in the comment fields below; however, be advised that if we detect homosexuality in your post, the comment will be deleted, your IP will be banned, and your voice silenced, forever.
Editor's Note: Yes, we are losing money but you can't put a price on religious freedom. As we like to say here at Lebal Drocer, "Freedom ain't free."