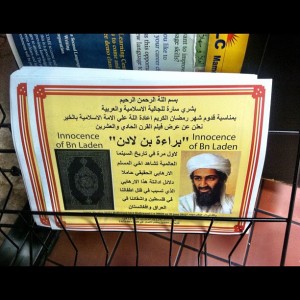 APOCALYPSE–Today, bomb threats swept across America in a perfectly orchestrated CIA plot. Meanwhile, a former Anonymous leader–who has rumored ties to the CIA–was arrested for planning attacks on the children of FBI agents. In the Middle East, the showing of a mysterious film ignited anti-American riots that ended in the murder of an American ambassador. Is it possible that this film wasn't the work of the CIA?
All of these events marked the 11th anniversary of September 11, 2001, putting an already xenophobic American public on edge. Canada recently severed diplomatic ties with Iran, and the IAEA condemned the Iranian nuclear program.
What follows now is a matter of speculation, but we can be sure whatever plan is unraveling will Destroy The Entire Earth.
UPDATE: Critics widely panned Bob Dylan's newest album, released on September 11th, for alleged plagiarism. This comes on the heels of fifty years of Dylan's "plagiarism," which folk and blues fans know is actually the rule and not the exception. The critics, possibly tipped off by the CIA, have undermined the potency of America's greatest protest musician, and there is nothing left but the whiny Occupy songs of Tom Morello. This is also seen by many as a move to clamp down on intellectual property, after the SOPA legislation failed to pass earlier this year.