MOSCOW — Edward Snowden, the NSA whistleblower famous for revealing details of expansive domestic surveillance programs in the United States, has been conscripted by the Russian military. Currently, he is being forced at gunpoint to use his elite hacking abilities in spearheading cyberattacks on Ukraine.
This follows Snowden's final tweet, in which he broke the new Russian misinformation laws by stating that he made a bad call on the war in Ukraine after weeks of desperately trying to convince his followers that it was never going to happen.

Snowden, knowing some of the access codes to secret American cybersystems hidden in Ukraine, uploaded encrypted "Whistleblower Warheads" into Hunter Biden's CIA mainframes, causing them to leak sensitive information directly to Glenn Greenwald's laptop in Brazil. Among these files are recipes for several new strains of COVID, hundreds of Biden crack smoking tiktok clips, designs for miniaturized grenade-sized nukes, and logs from Anonymous #OpRussia backchannels.
Snowden said he is having a hard time hacking into Ukraine's Turkish-manufactured drones, saying, "I just don't know what I'm doing. I'm trying to learn Turkish, but they've got this big guy who comes around the office waving a submachine gun in my face, and the sandwiches they're feeding me are no good. Just the worst. All I want is to go home, see my wife and kids, but they've got me working 18 hour shifts here, sleeping in a janitor's closet. All I end up doing is browsing twitter, dreaming up sweet comebacks for these concern trolling ghouls, even though I know if I fire off one tweet, Big Ivan will come in here and blast me to pieces on the spot."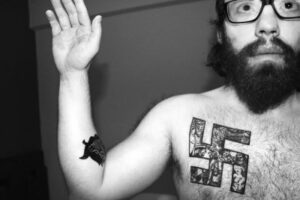 Andrew Auernheimer, also known as Weev, fled the United States a decade ago for Eastern Europe after single-handedly bringing the AT&T network to its knees. In his large leather chair at the Azov Battalion Cyberwarfare Operation Center, he unbuttoned his shirt to show the swastika beneath. "You know what this means? This means I'm against f-ggots like Snowden. Every day I'm mitigating his attacks, beating off to his suffering failures at penetrating my systems. What's better is the mainstream media is finally embracing us Nazis. I'm not afraid of anything. Putin can't touch me."
Meme scholar and Trollenomics Professor Dr. Angstrom H. Troubador said of the epic struggle, "Weev's Rasputin-like Meme Magic is the last bulwark holding back the return of the Soviet Union, but it's not going to last. Rather than being based, he's become very cringe and that always corrodes away at the ability to troll. Still, I wouldn't count him out, just yet. Snowden on the other hand, he's a powerhouse of technical ability and hacking, and he's got his sweet little baby with a machine gun to its head. I'd like to see him hack his way out of that! He's definitely got the edge in this one. Only one thing is certain: Between Weev and Snowden, everything hangs in the balance!"