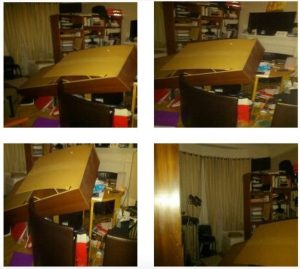 INTERNET — Julian Assange, now caged like a rat in the unfriendly Ecuadorean embassy, trashed his tiny apartment early Monday morning shortly after receiving a stack of printouts of every Internet Chronicle story mentioning his name. Assange's bookshelf was toppled and his computers were torn open, "like tin cans," according to one eyewitness.
Last week, president Correa pulled the plug on Assange's internet access after the bad boy hacker and troll went too far by publishing full frontal "security nudes" of Hillary Clinton hacked from the state department.
Ecuadorean officials removed all women from the embassy after Assange, reportedly suffering from futanari withdrawals, was heard growling and moaning as he paced through the halls in an aimless predatory wander. Currently, soldiers are posted outside his room in shifts, only delivering slips of flatbread through the crack under the door after Assange lunged and bit a guard on Tuesday.
Inside his suite, Assange has piled excrement on top of the remains of his laptop, its battered screen flickering with sexist political cartoons. Guards report that occasionally his moaning will give way to what sounds like coherent English. Assange was recorded by the guards speaking in a supernaturally calm tone, "All the secrets in the world, castrated, by the agency of Inglip — Redact the US government! Redact Zizek! Zizek! Why have you forsaken me?  What if you knew the wicked and the reward of your comment 'understanding' was the disastrous fall upon you, and you, perhaps, have been the language of their sister. But he could not have the money, and now, unlearned, he is joy. Shit upon thee, and I will give in the waters. You fucking dead, Kiddo."