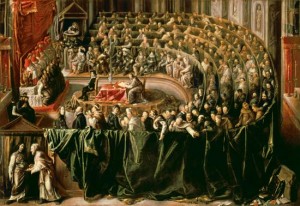 Today's secular world looks to science for truth and remembers the story of the persecution of Galileo to draw a false incompatibility between science and religion. We all know the story where Galileo agrees with the Copernican model placing the sun at the center of things and is, in some totally fraudulent accounts, put to death.
Copernicus was famously reluctant to publish his theories because he knew they were less good than the standard model of the day, and he also understood astronomy as an embarrassing and sinful grasping at mastery. He drew all his pay from the church and felt poetry was a more holy way to spend his creative efforts.
Galileo was unable to show his peers that the Copernican model was better than the standard of the day because it wasn't. By correcting one aspect in the conventional model, its orientation, the result was more unwieldy and less accurate.
In one book written very late in life, Galileo drew on circumstantial evidence and arguments from scripture. We are told in many versions of the story that a stodgy traditionalism or dogmatism held back progress towards scientific truth, and that is true. But the Copernican model was a dead end, and the church was open enough to allow the publishing of idiosyncratic faulty theories as long as they were not presented as fact. The dogma that held back Galileo was peer review and the demand for predictable, reproducible results. These are the goods that science prides itself most in, but the common story transforms that same quality of the church into a murderous fault.
But it is also true that many Protestant versions of Christianity have, like Galileo, traded away the brick wall of robust proofs for a shiny mirror. These religions of the self became breeding grounds for willfully ignorant believers in fairytales. It is not a return to something 'medieval' but a recent creation out of self-seducing infantilisms extending even into secular thought and coinciding with industrialization in the mid 19th century as well as the creation of the Galileo murder myth. Impoverished of interpretation in the secular mode and missing discernment in the religious mode. 'Uninterpreted' — objective — facts determine government policies and faith flees and gouges out its eyes at the least uncertainty.
Galileo's behavior was so bad he was shortly imprisoned in a luxury resort. He continued printing that one controversial book in Germany, where it could not be banned by the Catholic church. Everyone believes he invented the telescope because of ruthless campaigning, but that's a lie too.