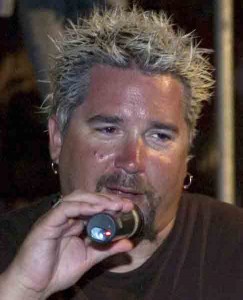 NEW YORK–Monday, Guy Ferry–known to television viewers as Guy Fieri (pronounced fee-eddy)–was hospitalized for life-threatening anal fissures. Anal fissures are tears in the rectum usually caused by vigorous insertions of increasingly large or strangely-shaped foreign objects without proper lubrication or training.
Dr. Angstrom H. Troubador, proctologist, said "These kind of deep anal fissures are often fatal if not treated, and may take many months of painful bowel movements to heal. Needless to say, Guy will want to take it easy on 'off the hook' spicy foods for a long time."
Ferry's new restaurant, Guy's American Kitchen & Bar in Times Square, was lambasted in a viral, scathing review from Paul Wells of the New York Times. Guy fired back by going on the Today Show and complained to Savannah Guthrie about the reviewer's "agenda" –while making cheap excuses for the bad food and accepting some measure of responsibility.