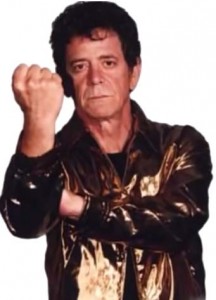 MIAMI, FLA – Lou Reed died tragically today at the age of 71, but media has been slow to report on the cause of his death at the hands of Illuminati murderers. Speculation that his death was related to a liver transplant last May proved false when Reed's doctor, Angstrom H. Troubador, denied that Reed suffered any serious complications from this procedure.
Police report drafting compasses and dollar bills were strewn around Reed's apartment, along with other assumed calling cards of the Illuminati. FEMA authorities cordoned off Reed's apartment and evacuated nearby residents for fear of the presence of biological agents. Anonymous members of the Illuminati on Twitter took responsibility for the attack and celebrated by posting memes mocking Reed's latest collaboration with Metallica, Lulu.
The Illuminati has been "cleaning up" influential musical acts to increase their own influence in the zero-sum game of "Symbolic Craft Masonry." Since taking out their number one target and enemy, Michael Jackson, Illuminati influence has grown out of control, and as a result freedom has visibly declined. Illuminati members and shills such as Rihanna and Miley Cyrus now firmly control the message of all popular music.