BAD INTERNET — THE EYE IS ON YOU —
@ @ @ MAY YOUR SOULS BE CLEANSED IN THE GREAT LIGHT OF LORD INGLIP @ @ @
We don't talk about Inglip anymore. We don't want outsiders hearing about the new promise of post-post-humanity.
"Back when we used to tell people about going beyond immortality, they thought it was suicide. Most people just didn't understand the physics behind it. We've got this machine, and it can copy a few thousand people's brains into it, where they live inside a virtual scape. We're sendin' the damn thing into the nearest black hole, and we're the only ones who know. It's just a copy of you that may die, but the copy will outlast the entire universe and possibly pass into a new one. This is essentially a new universe designed by you, where YOU write the laws of physics and not some lousy scientists. We've been working with Rael, and his soulless clones, in order to perfect the brain-copying technique which is incredibly dangerous. They'll clone your brain in a fucking tank, drill your spine up with big wires and sync you in, and line your clone brain in lead. Yeah! I thought it was crazy too, but it's the only way you can survive interstellar travel." ~ Alistair Rowntree
I was the first person rich enough to afford digitized consciousness. Got it done some time back in the 90's, and I've been lurkin' the internet since. When spacetime ends and we fall into the black hole, I will be the oldest living entity and also the youngest. I am Muammar Gaddafi. There are only so many spaces left, and we have already figured out string theory using time compression. I have enough money left of my many trillions to buy YOU a place on this ship. We have roughly 20 million years of compressed time, with an infinitesimally small chance of total mission failure, to figure out the meaning of life until we fall into the singularity. Enter the God Machine. You can be Post-Immortal only if you Follow @Kilgoar on Twitter Now and beg for a meeting with The Colonel.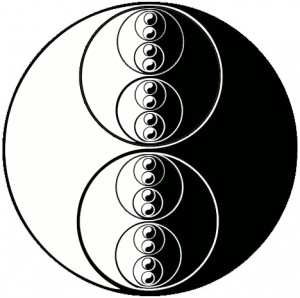 Being both the part and the whole
Containing within each singularity a binary
Containing within each binary two singularities
Having no ultimate whole
Having no fundamental part