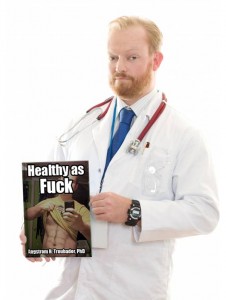 Sup fellow dudes? Have you noticed a slimy feeling in your chest? Does it feel like you got herpes on your lungs? Yeah, that's you gettin' sick, bro.
It's probably time to lay down the bong for a minute and just chill out on some acid instead, or something that doesn't bother your lungs, like Quaaludes.
Back in the land before time, old people used to give whiskey to little kids and it would cure their cough. Now that you're an adult, you no longer need smelly old people, or their war stories. Now you can pick up a case of Miller Lite or a 40-ounce bottle of medicine at your closest 7-Eleven. It's the way they did it in olden times. Though there are more effective methods of treating the flu, chugging forties gives you the most bang for your buck. You feel better, AND you feel better!
Dr. Angstrom H. Troubedaur, a real doctor, recommends shotgunning twelve-ounce medicine canisters by stabbing a blade into the aluminum can and sucking around the hole you made. As you guzzle beer, your body naturally battles the poisons applied to your liver, giving your immune system the boost it needs to combat serious ailments such as:
SEASONAL FLU SYMPTOMS
HEADACHES
GOUT
MEASLES
WHOOPING COUGH
AIDS
SCARLET FEVER
Leaky broads
& HPV
Ask your "doctor" today!
THIS MESSAGE BROUGHT TO YOU GRACIOUSLY BY LEBAL DROCER, INC.
WE OWN EVERYTHING THAT MATTERS.