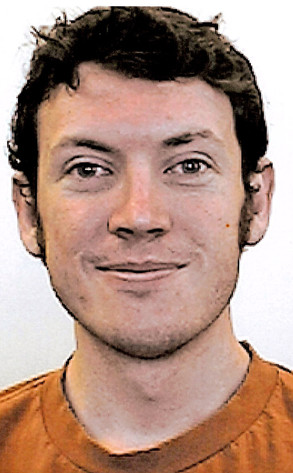 AURORA, COLO. – Moviegoer James Holmes, an Aurora resident, says he is the victim of a "witch hunt" and wants to go back to work, even though he's being paid $60,000 a year to stay home while police investigate a shooting spree Holmes allegedly took part in.
Since he could legally view PG-13 movies in 2001, college dropout James Holmes "has been disciplined, suspended, fined and sent home with pay more than any shooter in the state," according to the Aurora Mass Murderer Monthly.
Holmes, who has been accused of "owning a Batman poster, a Batman mask and other Batman paraphernalia," was suspended with pay in July after he allowed moviegoers to jump into the path of his gunfire during a surrealistic recreation of events that had only just taken place onscreen, during a scene in the "Gangster Squad" preview, which featured gunmen shooting through the movie screen into the onscreen, fictitious theater audience. (During the shooting, Holmes told his victims "I'm an excellent killer, but a lot of people might get away.")
According to his lawyer, Holmes wants to return to duty "rather than sleeping late and watching 'Psycho' and horror films."
In August of 2001, he was tossed out of the Byrd Theater in Richmond after impersonating murderous zombies from the nightly feature, and was charged with assault after biting the tits off an unsuspecting soccer mom. In 2002, after slaying his first human victim, Holmes was arrested for slaughtering innocents with an unregistered handgun.
"Back then I was a little fish in the big sea," Holmes tells the Chronicle. "Everybody had a target painted on their backs, but my handgun clips held only thirteen bullets apiece." He became a full-time murderer in Denver in 2003.
In 2004, Holmes maimed four people in an attempted murder that went sour in the Colorado woods. "Questions were raised about whether he was trying to kill the people, or just rape and torture them," the League of Legendary Free Killers wrote on their website. In 2008, he was suspended twice for unintentionally killing two people by accident who didn't exactly totally deserve it for bringing children to a midnight showing. The same year, Holmes called in sick with "general uneasiness relating to feelings of compassion and humanity." He was drowning puppies in a bathtub.
More from the Chronicle's profile, "The Aurora Murderer who society can't stop paying to kill them:"
It seemed, in spite of all his past misconduct, there was nothing Holmes could do to lose his badge.

Internal Affairs dropped the ball on almost all the internal affairs complaints on Holmes. He was fired after police found cocaine in his car, but appealed and managed to keep his Murder Certificate and his job reviewing cinema.
After a short but half-assed IRS investigation into his holdings, Holmes is expected to return to work by early 2013. Citizens afraid of his return to society should lay low and try not to get in his way, lest he abuse his authority.