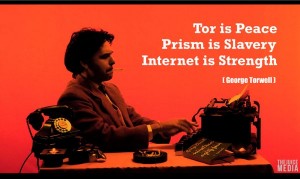 INTERNET — The infotainment youtube program Juice Rap News released a promotional video for the cryptographic distributed network Tor which is developed and continuously funded by a front group set up by the US military.
Investigations showing the purpose and intent of the military's "cloaking device" is readily available online, yet defenders of Tor claim that its sources of funding, localities of deployment, and various groups which regularly use the cryptography in rebellion are an entirely apolitical matter due to tight and secure technical achievement bound only by the laws of mathematics. Such egregious and completely bald lies were gobbled up by the uninterested and unsuspecting dupes at Juice Rap News and repackaged in a confused reference to a literary work that has shown them to be illiterate as well as irresponsible.
Their character George Torwell, based on the famed novelist of 1984, admitted by a slip of irony that the often-denied geopolitical ambitions motivating the creation and continual funding of the Tor project are not a Pollyanna game of activist grabass when he said without irony that "Tor is peace," in the place of Orwell's ironic "War is peace."
However, the Internet maniacs are likely to see this draining of irony from Orwell's great warning of the lingual tricks of ideology as a clever and cool piece of infotainment and maybe they'll even make a donation to take the burden off of the Pentagon's budget.
Tor is War

Prism is Freedom

Internet is Ignorance

~ Torwell Orwell