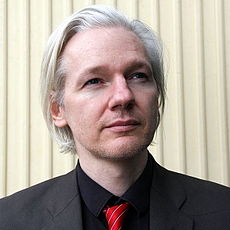 LONDON — Fans mourn the loss of Julian Assange, who was found dead in the Ecuadorian Embassy in London after suffering a burst bladder.  Assange was known for "accidentally" publishing trillions of documents containing scandalous details of United States imperialist foreign policy without redaction. Authorities in London say he refused medical aid because he feared a "double-whammy execution extradition" to Sweden and then America, where he would face lethal injection for aiding and abetting terrorism.
Barack Obama held a press conference declaring victory over WikiLeaks and issued a stern warning to Ecuador. "Countries which harbor terrorists like Julian Assange are fair game for American drone strikes. Haven't you read WikiLeaks lately?"
The last ragged remnants of Anonymous have banded together using the freedom software tool "Low Orbit Ion Cannon" to knock off the NSA supercomputer by overwhelming it with traffic. The NSA system feeds into a nuke-proof trillion terabyte hard drive underneath a mountain in the desert which will be able to store the entire traffic of the internet for the next hundred years.