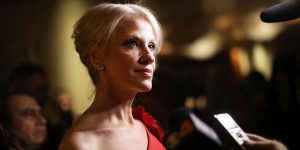 Wikileaks unveiled a hacked transcript of Kellyanne Conway's secretive interview with CNN portraying President Trump rampaging through the white house in what she called "pussy grabbing cocaine mania." Conway's bombshell interview with Wolf Blitzer is set to air next week.
The alleged interview transcripts show a Conway who was sexually terrorized by the president, "He came up to me, scowled, and grabbed my pussy after my botched interview the other day. 'This here's the only reason you're not fired.' His exact words. 'Anything you say, I can say it's fake and no one will ever believe you.'"
White House spokesperson Kellyanne Conway's interview with CNN comes after the outlet was called "fake news" by President Trump. However, even most skeptical republicans see Wikileaks as a reputable source. Internet Chronicle has not been able to corroborate any facts with secret service or white house personnel, and Conway has made no public statements about the alleged groping.
"He grabs at least a hundred pussies a day. Every chance he gets and yes, especially his own daughter and wife. Just the other day I told the President that I can't explain to the press why he won't lock Hillary up. Then I made a mistake in sharing my opinion that the American people had mandated it, and that he wasn't draining the swamp. I mean, how do I lie about all these things at once? It's hard and I was about to cry. Then he took this big line of coke right off of the oval office desk and grabbed me in the pussy, bruising it badly. He shouted 'THIS is what the American People mandated!' so loud that the Secret Service rushed into the room with guns out. They grabbed me and locked me in the bathroom for three hours until the president's rampage came to an end."
Julian Assange of Wikileaks appeared on the Sean Hannity radio show and spoke with the deliberate, natural voice of General Tarkin in Rogue One, "We've never published anything wrong in our whole career. I think the people of the world want to know the truth. Does that mean what Kellyanne Conway says is totally true? I don't believe so."
Assange is currently in the process of handing himself over to US authorities, although an increasing number of skeptics believe he has been covertly murdered and replaced by an artificial simulacrum controlled by CIA propagandists. A majority of poll respondents told Internet Chronicle that Assange's sudden change in behavior is "totally fishy." Dr. Angstrom H. Troubador logged onto CNN and posted a comment out of his ass that said, "Assange is enticed by the new pussy grabbing opportunities available in Trump's dank white house," and the pyschiatric committees of America all agreed this is some sick fuckin shit.
Senator Al Franken has called a motion for immediate impeachment of President Trump, but Republicans want to delay until the interview airs on CNN. Arnold Swarzenegger, whose recent beef with President Trump has dominated headlines, celebrated this decision, tweeting, "One more week and I'll be Back." Trump responded with a misspelled tweet that read "Your Fired." Dr. Troubador, whose twitter password was lost long ago in a stoned daze, didn't tweet anything at all.