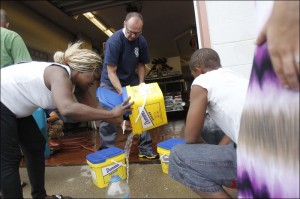 TOLEDO – Toledo is in a state of emergency today after EPA chemists found a deadly toxin in the water that automatically kills anything it touches. After hours of research, no one yet understands the wretched algal bloom that appeared over Lake Eerie and started coming out of Toledoan's water faucets Saturday.
The price of water in the midwestern town shot up to $10 per gallon, and the town has been described as a post-apocalyptic nightmare scenario akin to "Raccoon City" of the popular zombie survival videogame Resident Evil.
Experts have suggested the toxic algae bloomed "far beyond" what occurs in nature.
Jim Glube, researcher for the federal EPA, said the water supply was intentionally poisoned.
"I've seen this before," Glube said. "You don't get algae bloom like this out in the wild without artificial intervention. Someone had to go out on the lake and spread this stuff around."
Glube said the poisoning could be the work of bioterrorists or some kind of "new world order."
"The move was so calculated, I'm willing to say this was not just one guy," Glube told Chronicle investigators. "Based on Eerie's size, and the magnitude of the spread, my guess is this was a calculated effort to bring about some kind of new world order."
Dr. Angstrom H. Troubadour is an editor of the peer-reviewed journal Nature. Troubadour said if the town was poisoned, then "Nestle would know something about it," because they have private access to the lake, but no one from the company would respond.
"Remember the baby formula thing," Troubadour said. "Nestle is not very cautious. They don't care, and they are connected to very, very horrible people who believe access to water is not a basic human right."
As scientists grapple with how to solve the humanitarian crisis in Toledo, politicians are assuring residents up front that they are working on an alternative water solution. And in the back, they're asking their corporate donors to donate next year to the PAC instead.
The Toledo Health Department says it is critical residents know the following:
It is safe for healthy adults to bathe, but do not let the water stay on your skin longer than a few minutes.
Do not drink tap water until the 'all clear' has been given. This also includes pets.
Do not use tap water to cook.
Do not boil tap water, as this increases the concentration of toxins.
It is OK to use your toilet, as long as no water splashes up into your butt hole.
If you're on well water, have your well water tested daily. If the poisoning was intentional, there is no way to tell who is being targeted or how far the killers will go