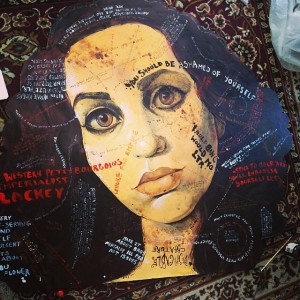 INTERENT — Molly Crabapple, artist and blogger known for her commentary about how the world's messed up, tweeted Friday about her latest painting entitled OpPornPixie. At the center of the operation is a highly stylized and glamorous self-portrait overlaid with a bloodspatter of the kind of abusive comments the artist receives as a consequence of being a hip public figure and advocate for women, sex workers, and justice for the persecuted and powerless.
The cloud of hate is punctuated at her neck with a question mark. The only upside-down words, "Despicable Creature," (perhaps the work's true title?) are stylized with the artist's trademark font rather than the bloodspatter of the hateful comments. Is this text a self-inflicted wound?
Some of the abusive text cuts across her face, adorns her hair, or seems to become a part of her face, lining her eyebrows and even standing in for eyelashes. In one photo, the artist poses for a "selfie" in front of the self portrait, the artist's vengeful glance at the camera contrasting with the subtly saddened face in the enormous painting behind her.
The social media performance that accompanies the painting, Op[eration]PornPixie, is possibly just beginning, but so far it aligns with the vengeful glance of the artist in the selfie — it has made the abusers mad. Crabapple has retweeted a handful of criticism directed at the work. One critic said, "Very self serving and self indulgent. Its all about you flower," and another said, "Stop oppressing people by crowdsourcing free insults. Insulters deserve fair wages for their digital labor."
It is perilous to speak of an artist's intent, but Crabapple opens this discussion on Twitter, saying, "I'm not making this piece because I feel threatened or scared of internet fuckery. I do think it should be visible, preserved. Some is lulz." And the painting does provide that kind of reportage, although maybe the lulz are hiding in the words that are not legible. However, it is important to consider the context of Crabapple's advocacy journalism and the temporary surge of attention violence against women is receiving in the wake of the Isla Vista shootings. Crabapple is, as always, ready with brush in hand to paint the sensational and oh-so-conscious trend of the week. This gigantic self-portrait, spattered with violent words that have wounded the noble advocate for women's rights depicts (or covers over?) a bloodier, self-inflicted wound instantly recognizable to any popular artist: A "despicable creature" defined by the audience and its expectations, painting what's trending on Twitter.