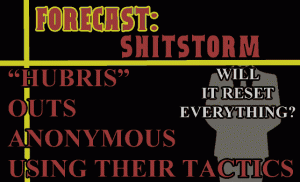 THE INTERNET–Hubris is taking the power back. The new Anonymous are a collective, sure, he said. A collective of "moralfags" – a name anonymous dare not apply to us lest it be applied to themselves.
We challenged the most recent bastardization of Anonymous to stand behind their big talk and actually hit hard targets like the revolutionaries they claim to be – picture 100,000 Che Guevaras sitting behind firewalled PCs wearing Guy Fawkes masks clicking off the gate security buttons at the Mubarak compound.
After comparing themselves to the protesters in the streets of Libya, Tunisia, Egypt and Yemen, they could only hit a few websites and that of Westboro Baptist Church by downloading the same picture over and over again. Shameful, but that's what the world can expect from script kiddies whose sole source of determination lies at the bottom of a freshly consumed Mountain Dew: Code Red.
Funny thing is, I was only trying to help "Anonymous," whoever they may be, by asserting the possibility – no, the fact – that Anonymous is infiltrated, influenced and even operated by the United States Government. Since the 1960s, the FBI has been doing this with groups like the Black Panthers and even environmental activist groups, but especially groups for social change; what makes Anonymous think they're some kind of special impenetrable force of good? The fact they are such nerd-raging moralfags, that's what.
So in an effort to defend the integrity of their bullshit do-nothing collective, they inadvertently defended the United States Government by "attacking" me for pointing out what is obvious to everyone: that anyone can go anonymous, even federal agents, even chronicle.SU. Even Hubris, who took it a step further by proving that 'Yes you can be fooled by the very social engineering techniques the better parts of your group employ.'
Reactionary script kiddies who are just thirsty enough to point the LOIC at something are hardly a force to be reckoned with. The only power they've gained yet stems from that handed down by the 24-hour fearmongering news cycle, always following some shithead stunt pulled off under the guise of "hacktivism" – a term so full of shit they had to combine two words to keep it from spilling out into paragraphs of contradictory mayhem.
To fully illustrate the connection between their limited but exaggerated power, and the swirling news cycle of fear from which their true – and only – power comes, I'll proceed to explain how it works with the following anecdote:
Three easy steps into the Internet hate zone
We pissed off the fake news source of the fake arm of Anonymous we love attacking
Their reader-base – consisting of "white knight" Anonymous coattail-riders – reacted, by gathering "dox" on me, the results of which were then posted as a comment on a chronicle.su story. [One achieves dox by way of Google searches; between two and four search submissions return a name and hopefully an address or phone number; this is no different than the kind of footwork journalists or federal investigators conduct on a daily basis.]
Thanks in part to fearmongering on behalf of nightly television news – and redneck neighbors' concerns I'd gotten their kids into what they called "hacker shit" – my aunt and uncle refused to believe that the people we pissed off are not actual hackers, but just the kind of wormy shit-for-brains kids who frequent anonnews.org and jerk off to hentai with their LOIC pointed at Westboro Baptist's website. My family was absolutely certain I'd pissed off one of those as-seen-on-TV "international hacker groups," and asked me to leave before their personal computers "get hacked" and they lose their jobs. So I moved. No shit.
Failing physical threats of rape and murder, which came later, that's literally the worst they can do.
[Editor's note: in case you're wondering, I'm fine. I missed a few days of work during the move, but I now live on one of the most beautiful mountain ranges in the world. Things actually got better for me after government agents threatened my life and my family. Springtime here smells sweeter than many women I've known. I watch clouds kiss the landscape with my coffee.]
Anonfags think they were doing something good by providing others with the means to bring harm against me and my family, because they saw me as the enemy after I threatened the integrity of the fake news source of the fake arm of Anonymous, effectively calling out their embarrassing superficiality. They really fed me right back to the government, because they liked the lies that they heard better than the truth I was offering.
Just like FOX News viewers, they collectively believed and repeated enough of what spilled out of that fake news source until they became ever-higher and mightier caricatures of themselves. And now this is happening.