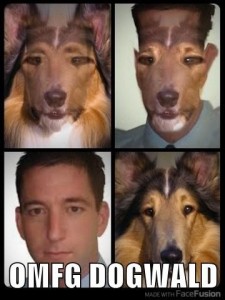 INTERNET — You may have heard of the popular "doge" meme featuring the silly sideways glance of a lovable Shiba Inu dog, but meet Dogwald, the newest dog-based meme which has local dog lovers chuckling in their cubicles.
Snowden's recent string of revelations unearthing every government secret from NSA spy programs to GCHQ "virtual sit-ins" targeting Anonymous have jokesters on the web poking fun at Glenn Greenwald, the world famous reporter responsible for breaking Snowden's best leaks.
Dogwald fans claim Dogwald is a shape changing "weredog" from the Sirius system, instrumental alien from a race hell-bent on destroying America and its freedom by using the typical weredog tactics of controlled leaks and deep secrecy.
While the multitudes of complicated conspiracies surrounding Dogwald are often too much for the general public to swallow, it is well known that weredogs have telepathic surveillance powers which makes the hilariously pathetic power of the NSA pale in comparison.
Local resident Jerry Plainfield told reporters, "I just love that Dogwald. I post his picture on my Facebook now and then and it always gives me a laugh and a few likes. People will post a comment like 'look at that weredog spying on our thoughts' and I can't help but laugh. Even my grandma gets in on the Dogwald fun. It's the best meme yet."