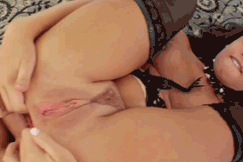 INTERNET–A new form of anal-on-anal sex has been invented by pioneering porn starlet and writer Sasha Grey. "Basically, I extrude a section of my rectum past my sphincter and insert it into another gaping asshole. It feels so good."
Already, thousands of enthusiasts of what's been dubbed "hyperanal" sex have learned to extrude their rectum out of their anus, posting video tips for those who are interested in reaching the "next level" of orgasmic sexual pleasure.
Critics suggest hyperanal sex is not safe, and parents are increasingly concerned as practice of hyperanal spreads into high schools. "Intentional anal prolapse may lead to a permanent condition where the patient has no control of bowel movements. Corrective surgery is dangerous and expensive," said Dr. Angstrom H. Troubador.