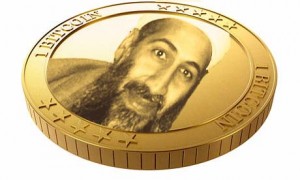 INERNET — The New OsamaCoin cryptocurrency, a digital commodity much like bitcoin, has reached a total market value of $10 trillion overnight as investors in Dubai learned of its existence through a viral buzzfeed blog post entitled OsamaCoins, the new cryptocurrency for funding global Islamic Terror.
Dr. Angmid H. Truhmed, of the Cairo Institute for Technology and also Muslim Brotherhood Computer Terrorist, designed the OsamaCoin, and said of it, "OsamaCoins are the world's greatest answer to Christian and Jewish hegemony, which has for so long suppressed Sharia law. I have named the coin after the great financier of Jihad, Osama Bin Laden. Allah Akbar!"
OsamaCoin has gained traction in the often misunderstood human trafficking and black markets. The latest of these, Silk Road 4, openly features Islamic iconography on its home page. Khaled Ahmedineshan said he uses the OsamaCoin to convert USD acquired through the CIA into Egyptian fiat. "With just 36 of your dollars, I can purchase many brides," Khaled said. "I am staging the stoning of my third wife this Sunday, to make room for a fourth."
The US Government, too, has its hands in OsamaCoins — and for good reason. CIA Director John Brennan said financing secret wars has never been easier. "Before we knew about the OsamaCoin, for example, we had to pay operatives with actual U.S. dollars," Brennan said. "On the books in the 1980s, that didn't look so good. But now what we do is convert our plummeting currency into the new gold standard of underground commerce: the OsamaCoin. It's what operatives expect to be paid in, and we've doubled our money on the investment already. That means twice as many secret wars."
Legal Islamic goods can also be purchased with OsamaCoins on The Oasis, a shopping site where tens of thousands of Burkas, or Islamic veils for women, have already been sold. The Oasis also sells Persian Rugs, Hookahs, and Dokha — a technically legal version of tobacco that is so strong teens use it to get stoned. Iran also transacted its first sale of domestic oil to a foreign party, in violation of sanctions, thanks entirely to the clever use of OsamaCoin – establishing the cryptocurrency as a dual-purpose mission statement of economic freedom and political power.