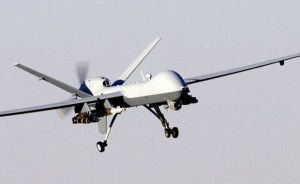 WASHINGTON–Friday morning, President Obama held a press conference at the White House and declared a "war on school shootings," naming former CIA director David Petraeus his administration's "School Shooting Czar." Rather than placing armed guards in schools, Petraeus unveiled a plan that will employ missile-toting predator drones for school defense.
Petraeus, speaking at the press conference, said, "We are a nation at war. Never again will we tolerate these senseless school shootings."  Critics of the new homeland drone program, dubbed "Operation Guardian," have warned that collateral damage will mean hundreds of more deaths for schoolchildren. Petraeus, annoyed, told the press "We cannot stand idly by and let these school shootings go on without a swift and brutal answer. We have taken all possible precautions to minimize collateral damage, but this is a war."
Details of "Operation Vigilant" included plans for a centralized network of security cameras in all schools, which will be in place by early 2014, as well as an intensive data-mining program to monitor the entire internet for threats of school violence.