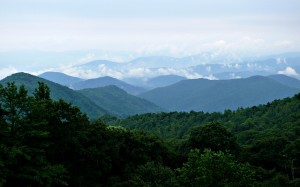 TOURISM — Stare at your phone in awe and wonder as you take in the natural beauty of the Grimlies and enjoy the internet streaming from our thoroughly disguised 4g towers placed on the crest of every ridge. When visiting, keep your phone at the ready at all moments, because bears may appear at any time, and they are not only dangerous but valuable to your social media reach.
We have the most beautiful views for you to pose in front of for friends on Facebook, Tumblr, Instagram, and Twitter, including but not limited to mountains, waterfalls, and bubbling rivulets. Our Five Star restaurant prepares the most photogenic food available in the entire South, serving up plates in a dazzling array of colors in our well lit booths. Be creative, even on rainy or foggy days the woods can be magical. A visit to Grimlies National Park will surely gain enough likes to take your social media game to the next level.
Gaze in wonder as your affordable Grimilies National Parks augmented reality app turns your phone into a time machine, reviving long-dead Indians, Bison, and old growth forests so you can see history as it really happened. We've got fiber optic cabins available for those who want to share their excursion with blazing fast internet speeds not even available in most cities.