Incontrovertible Proof FOUND! PROOF The Joker Killer was "PUT UP TO IT" by the GlobeHead!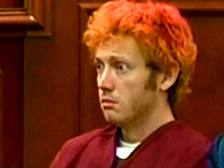 AURORA, COLO. – The GlobeHead has always existed, the not-so-binary of MALE AND FEMALE, the specializations of hunting, gathering, agriculture, onwards to the corporate industrial military Internet all-inclusive complex. Humanity is an interdependent colony organism comparable to other such fractally related colony organisms like CNIDARIANS. Absurdly polymorphic, humans have specialized to support increasingly large, increasingly connected colonies. The transfer of information artificially, first through spoken word, simple symbols, pictograms, manuscripts, print, and now social media INTERNET VIDEO bandwidth overload is equivalent to the growth of nerve fibers in CNIDARIANS. The very next step in evolution, which is quickly approaching, is the building of central artificial brain nodes, which will quickly be used for control by those in power.
AND WHAT HAVE THEY DONE THIS FOR? The elite computer geniuses receive all this technology first, but why have they chosen to use it to drive this man to murder? What does the GlobeHead want?
YOU'RE SITTING IN THE THEATER RIGHT NOW. CLOSE YOUR THIRD EYE, BUT LEAVE THE other two open.
Yes, I said close it.
The gunfight scene, the one you PAID for, the shit that makes BATMAN interesting. Your erogenous zones fill in anticipation for the FIGHT, the VIOLENCE that is to come. It's so real, so loud, you can even smell it this time. People screaming, oh, but that's still a part of the movie. Or no, it isn't, but maybe they're just afraid. The 3d effects are very real. At this point, a bullet rips through your brain BEFORE you have differentiated the massacre in the theater from the one on the screen.
COMING TO A MOVIE THEATER, HIGH SCHOOL, COLLEGE, AND MALL NEAR YOU! DISSOCIATIVE SPREE KILLING – IT'S LIKE JERUSALEM SYNDROME FOR VIOLENT MEDIA!
Westboro Baptist was right to protest the funeral of these people who died. GOD hated them, the GlobeHead HATED them. Not because they were faggots or any of that other Protestant trolling nonsense Phelps spews, but because THEY WERE SLEEPING. Expose yourself to violent imagery, and it stays with you for the rest of your life.
James Holmes was a biology and neuroscience postgrad working on a Ph.D. This shooting was his thesis, and the orange hair is proof. For his excellent work in fractally applying neuroscience to the GlobeHead, Holmes has been issued an honorary Ph.D. in Rhizomatics from Lebal Drocer College of Education.
Amen. Wesley Willis Prays for St. Holmes