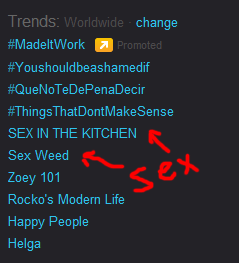 The Twitterverse is a dark, lonely place at the bottom. Sentence by sentence, people you've never met bombard you with new and terrifying ideas. Twitter is like Sex Weed IN THE KITCHEN. Once you get a taste, there's no going back.
There is a foundation layer of empty accounts existing only to inflate the power and egos of celebrities. These bots are purchased by the tens of thousands. This is the backbone of Twitter, and the source of all social power. He who controls these accounts controls the Twitterverse. Both WikiLeaks and The Government control millions of these kinds of accounts.
These accounts can be used with a computer program to plant certain memes into the entire Twitter collective. It seems that people are being whipped into a sexual fervor by a government campaigning against depopulation. This renewed interest in Sex Weed IN THE KITCHEN will underpin nationalism and help encourage hate of immigrants. There will be a new generation of baby boomers, and labor prices will plummet.
Somehow, they're doing it all 140 characters at a time. Why the fuck can't they just give us an even, fair 200? There's so many times a few more characters would have really helped drive a point home. Don't even suggest splitting statements into separate Tweets or using TwitLonger. That's fucking not the same at all and you know it.
You are the last person on Earth, and the survival of humanity depends on you ejaculuating into this woman: