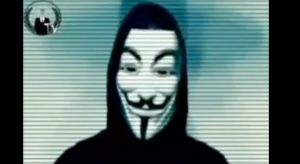 INTERNET — This week, news broke that the YourAnonNews twitter account, with over a million followers, successfully raised $54,000 through merchandising and donations which will go towards founding the Activist News Network. This idea immediately brought painful ties with the abject Nazi-run Presstorm to the memory of critics. Presstorm was an Anonymous-related news site which disintegrated when management ran anti-Occupy scare propaganda at a time when the protest movement was just getting off the ground.
Members of YourAnonNews, with the possible exception of Presstorm collaborators, do not appear to actually write news stories, conduct interviews, or place hard-hitting reporters like Tyler Bass of The Internet Chronicle on the scene at pivotal moments in WikiLeaks history. Rather, YourAnonNews is a marketing-related news-aggregation group which, at its most creative, serves up naive platitudes to as many ravenous teenage radicals as possible and connects hordes of jabbering idiots with the glorious and infallible Internet Chronicle.
A nascent anti-YourAnonNews group, AnonsAgainstYAN, has completely reified and magnified the problems of YourAnonNews by stripping the formula of all news unrelated to YourAnonNews and bringing the anti-platitude platitudes to a new low. This group immediately became wildly popular and led  several high-profile members of YourAnonNews to question their affiliation before completely forsaking their Anonymous identification. Because Anonymous swarms form in the same way as locusts — infighting and cannibalism leads to a biological change which turns docile grasshoppers into a frenzy of ravenous locusts — resident Anonymous experts at the Internet Chronicle expect a monumental shitstorm to hit within the week.