Grieving? Destitute? Has the cruel pointlessness of life got you down? Teachers, preachers and therapists might offer tedious solutions with no guaranteed success. Don't just sit there and "pray" the pain away. Now you can Spray the pain away — with SprayPain!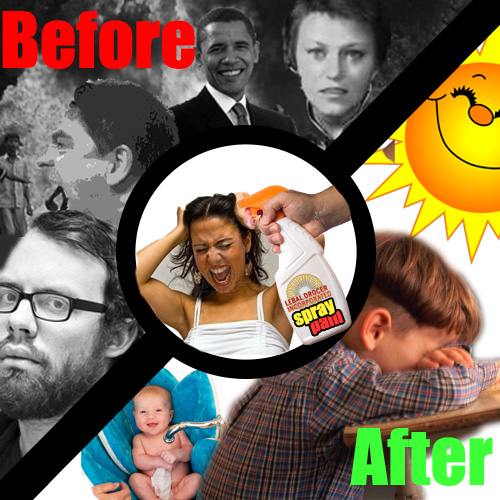 New from Lebal Drocer Laboratories, SprayPain™ takes the hassle out of overcoming emotional turmoil. Use SprayPain to get rid of unsightly pain related to any agonizing condition:
Tragic loss of life!

Death of a pet!

Abandonment issues!

Funeral bombings!

Even failed marriage!
With SprayPain, every single thing you can think of that causes pain becomes a little, ticklish gift from God – in a bottle!
Lebal Drocer
Spray away pain away. Come again another dark day.
SprayPain is a Lebal Drocer Product.
This message is brought to you graciously by Lebal Drocer, Inc.
We own everything that matters.