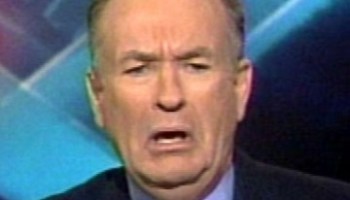 FOX NEWS — Respected FOX News anchor Bill O'Reilly admitted to the press Howard Roark, the individualistic young architect from Ayn Rand's libertarian treatise The Fountainhead, was not based on his character.
Though O'Reilly was born just six years after the novel's publication in 1943, the journalist insisted, throughout the greater part of his career that Roark's tenacious personal belief in individualism was based on O'Reilly's own prenatal disgust for collectivism.
Leading experts faithfully adhered to the belief Rand foretold O'Reilly's coming through the story of Roark, and clung desperately for six years to her prophetic testaments of a libertine messiah.
Virginia Commonwealth University literary expert Dr. Harmstrong Truebadoor said he will not change his mind in light of the facts.
"I know Papa Bear O'Reilly personally," Truebadoor said. "The man is a prime mover if there ever was one. Years start low, and the numbers just go higher – you can't explain that."
Truebadoor said the six-year discrepancy between the novel's publication and the world-renowned journalist's birth are erroneous "facts" placed in the spacetime continuum to test our faith.
"The second-handers attacking O'Reilly on the basis of evidence have a crippling addiction to facts," Truebadoor said. "The detractors negating Bill's vision of a unified monoculture have no sense of the fantastic, raw truths inherent in the Bib– I mean The Fountainhead. They are clutching at straws."
O'Reilly said he appreciates the profits that have come out of the support of his bloated, miserable army of die-hard fanatics, but indicated he wants to recede into his own legacy.
"The man is sort of in the way of the legend at this point," O'Reilly said. "Now you all are just waiting for me to die so you can make movies, theme park rides, and capitalize on all the principal I moved for you people. I may not be Roark, ladies and gentleman. You're right. I'm more than that. I am Roark. You're welcome."