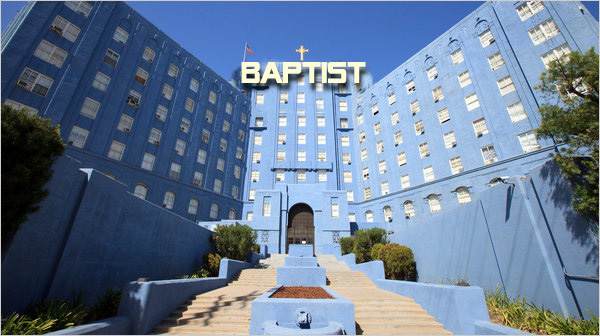 ROANOKE, Va.– Two former members of Cave Spring Baptist Church have filed a lawsuit claiming the church and its affiliates deceived members into donating millions to misrepresented causes, such as a digital signboard and homeless shelters.
Jim and Melinda Bastez of Roanoke, Virginia, filed the complaint in federal court in Washington, where the couple claimed they were duped into giving more than $420,000 for a building campaign, police arsenal upgrades and incest research, only to find the bulk of the money went to homeless shelters and the less fortunate, led by progressive Pastor David Miscavige.
"The church, under the leadership of David Miscavige, has strayed from its founding principles, the lawsuit claims, "and no longer stands for the hatred and distrust of outside cultures that protect the family, God and the Bible."
Pat Harney, a Southern Baptist spokesman said the church had not yet been served with the lawsuit, but challenged any contention that money was misused.
"We understand from media inquiries this has something to do with fundraising and we can unequivocally state that – we know the meaning of the word unequivocally – and that all funds solicited are used for the hateful and xenophobic purposes for which they was donated," Mr. Harney said.
The Bastezes were members of the church for 27 years, rising to upper levels of its hierarchy, and doing cocaine with celebrities in the infamous 700 Club. They left in November 2010 over their disenchantment with the church's direction toward compassion and human understanding led by Mr. Miscavige.
The lawsuit names various trusts and nonprofits linked to the church and says they actively engage in charity work, unfair donations to the poor and deceptive trade practices with the Salvation Army.
Attorney Teddy Bobby of Fairfax, Virginia, who is handling the suit, said it would be followed by more similar claims from former Southern Baptists. He said the Bastezes still believe in the precepts of the Baptist Church and that the litigation is not a commentary on whether it is a true religion. That question, he said, is ultimately irrelevant when considering its members' donations, who were led to believe the money would help keep the blacks in their place, and faggots from marrying.
A cornerstone of church practice is personal counseling sessions, known as auditing, in which members disclose many facets of their personal lives.
The Bastezes also claim to have prepaid for auditing and training services that were never provided and for which a refund was never received, and to have given about $340,000 for the church's planned White Power building for high-level hatemongering.