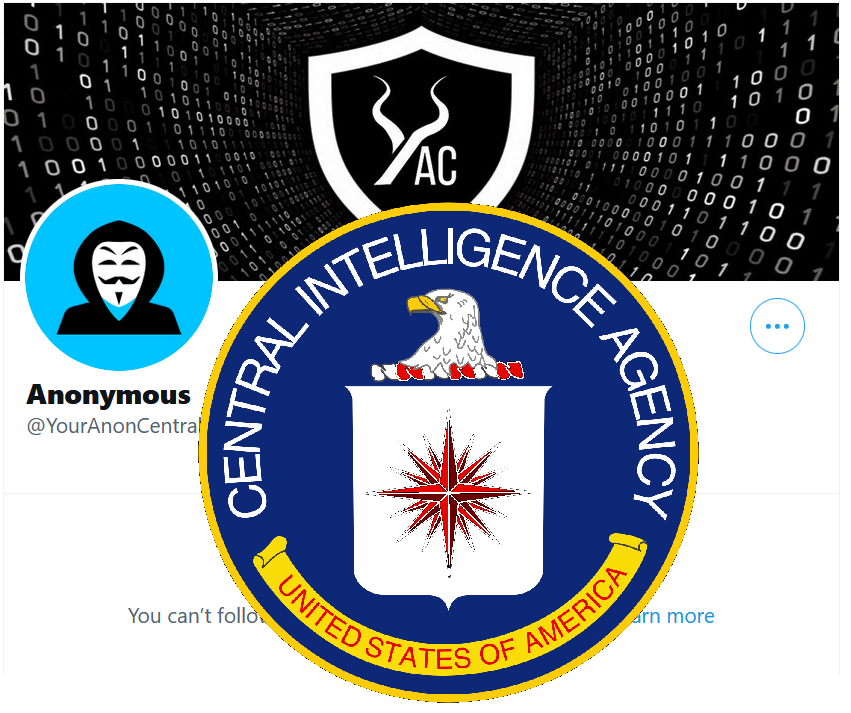 INTERNET — Thursday, the Anonymous hacker known only by the alias 'Asshurt' revealed damning documents that prove the popular so-called "Anonymous" twitter account YourAnonCentral is owned and operated by the Central Intelligence Agency.
"Even in their earliest internal e-mails you can see, they are laughing about calling themselves Your Anon Central, in reference to the Central Intelligence Agency," Asshurt told reporters at the Internet Chronicle.
Work to release the documents through the same extremely careful redaction process followed by Edward Snowden is already underway at The Intercept. Asshurt has granted an exclusive interview to the Internet Chronicle.
Connecting with reporters over the most highly encrypted channel, Asshurt ripped a vape and cursed, "Fuck, I've always believed something was up with that account. All it does is tweet propaganda against United States adversaries and other filler content that has no relation to hacking or hactivism whatsoever. I'm just trying to protect the name of Anonymous."
[pullquote]"I'm just trying to protect the name of Anonymous" – Asshurt[/pullquote]
Details of the manifest for Operation Crucible, code name for CIA activities to utilize the Anonymous brand for propaganda furthering United States foreign policy, outlines a three-pronged approach. "Co-opt, Destabilize, and Command. The first stage, Co-opt, will appropriate the Anonymous imagery, create social media accounts and web sites trafficked by a majority of Anonymous fans. Once this is achieved, destabilize will cast doubt on non-CIA sources of Anonymous branded information. The final and important stage, command, will, in conjunction with the State Department, propagate materials and information beneficial to United States foreign policy."
Psychological Operational Analyst Dr. Angstrom H. Troubador told the Internet Chronicle, "Operation Crucible, by all metrics, has been a wild success. Anons are more likely to hate China, Myanmar, Russia, and other competitors to United States hegemony, while simultaneously considering themselves to be revolutionary and radical thinkers. Yet as you can see, they're only mere puppets of propaganda."
SpartaZC, the alleged owner and operator of YourAnonCentral has not responded to inquiry.