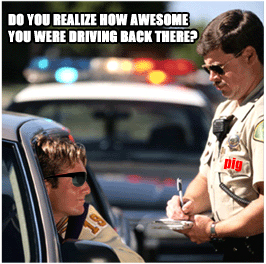 Clarksville, Tn.–Today, a bitch-ass pig gave a really cool guy an award slip in recognition of his driving prowess.
Elf Wax writer Feces McGee was on his way from an executive meeting of winners when he was pulled over for driving the speed limit through a school zone.
He was cited the Award for Driving Near or Under the Speed Limit in presence of children; however because children are somehow more important than normal tax-paying citizens, everyone must drive twenty miles per hour slower when near them, or else Darwinian evolution might be allowed to unfold as it should, and McGee was doubly awarded the privilege to pay homage to their budding potential through the local court system.
Officer Bill Oinkenheimer of the Clarksville Police Department in Montgomery County, Tennessee said all proceeds go toward new police tasers which are used to defend our freedoms.
"Without this bad boy," Oinkenheimer said, tapping his yellow snub-nosed taser, "I'd be nothing."
However, independent sources have verified police officers are in actuality less than nothing. Considered by many American citizens to be a gang-like abscess on society, police officers rarely defend the interests of the people or the misplaced values inherent in the United States Constitution, in spite of the fact every precinct is a Federally accredited agency.
But the Montgomery County Police Department said in a statement Tuesday the police don't exist to uphold the constitution – and no one does. The job of the police, their spokesperson said, is to help get people in a place where God can sort them out. Many times, this involves prison, unorthodox beatings, or a good old-fashioned lynching. "What people gotta understand," Officer Oinkenheimer contested, "Is that the Constitution is merely a guideline for how things orta be. We do things differently here in Montgomery County. For example, just look around you: see any blacks?"
Indeed, Clarksville, and all of Montgomery County, for that matter, consists of poor white trash, and what good fortune it is to the world their accidental, snaggle-tooth offspring are protected by 100 feet of a too-slow-to-even-make-sense-of-it-in-time speed limit.