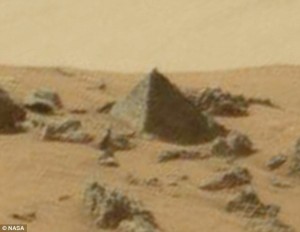 Cape Canaveral, FLA. — NASA scientists are baffled by what they are calling a 'perfect' pyramid that appears in a set of photos made public earlier this week.
With conspiracy theories on the rise, it has been difficult to get an official to go on the record. They simply will not risk fanning the flames of what is becoming volatile and histrionic speculation. However, one source at the John F. Kennedy Space Center in Cape Canaveral, Fla. agreed to go on the record to offer some relief from the question on everybody's minds: What is that pyramid-shaped rock?
Cosmologist Anstrohm H. Traubedauer told The Internet Chronicle that while the photo itself is not conclusive evidence of intelligence life in our solar system, the perfect shape and placement of the stone – which is about the size of a car – are strong indications the pyramid is not merely a geological phenomenon.
"On earth, we commonly find mountains jutting up 'randomly' across the terrain, but not without some accompanying signs of subterranean protrusion," Traubedauer said. "It's like someone just sort of placed it there."
Traubedauer said even confirming their findings has been a slog through red tape and security snags.
"I really don't like to use the word 'extraterrestrial,' but myself and my colleagues – including a number of prominent earth scientists and geologists – are able to discern from the photo that there are […] engravings or markings, which almost seem to indicate the structure was machined from a larger stone."

Dr. Anstrohm H. Traubedauer
Traubedauer said the people overseeing his work are from 'unnamed' government agencies and do not explain their presence; however, he said they are 'deeply interested' in his team's findings.
"I don't know who these men are and frankly, they said I am not even supposed to talk about them to the press," Traubedauer said. "That is all I can really say without losing my job. I'm sorry."