Internet. You give me a lot of problems. But mostly you just give me solutions. Actually more problems.
Number one, I do not know what to masturbate to – you are just so full of surprises!
Number two, I can't trust Wikipedia. Anybody can edit that shit! Come on now! That's got to make it the worst source of reliable information since Pepsi's homepage.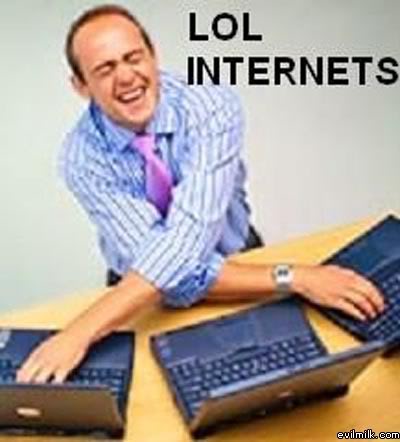 Number three, Google. WHAT THE FUCK YOU CONTROL INFORMATION, WAY TO GO. You are the Wal-Mart of the Internet.
Number four, Net Neutrality. You are the single most stressful term about the internet. I'd die protecting you, if I didn't know you'd still be sold right out from underneath us, destroying freedom of speech and free enterprise as we know it.
Number five, you've changed the news. Like porn, you used to have to pay for the news in some way – even if it was just an advertisement on TV. Now, you don't have to pay for shit. Way to go, internet. I won't have a job after I graduate. But what the fuck do you care? With each keystroke, I've done a little more work for you – for free.
Number six – I just heard Barack Obama can take control over the entire internet in the event of a "data emergency" – Obama can privately Google himself in the dark now. He will start a blog about something that matters a lot to him. Or just look at porn. Note: this came from FOX News, so it is probably true. I did zero fact-checking for your convenience.
Number seven – you've dissolved friendships using fakebook and myplace. I have to commend you for this. I thought I'd never be able to keep an endless supply-chain of excuses going not to hang out with "friends." Now that we're always friends no matter what I do, I can ignore them forever and die alone! Just the way you told me I always wanted it.
Number eight – How in the Lord Fuck am I supposed to turn my back on you knowing you hold the entire wealth of collective human knowledge? I once stayed on the internet for four days, tripping on morning glory seeds and reading desperately about String Theory, believing I was looking God in the eye. Now, I can only live out my day-to-day "sunshine" life knowing that I've turned my back on the source of all things known so I can make pizzas, rent movies, and park old rich fuckers' cars. I'm sorry Internet. I didn't intend on having a real life. I promise to quit a job for you one day.
Number nine – youtube – what's with the copyright bullshit? How long are we going to pretend like China doesn't get away with piracy 1,000 times per second?
Which leads me to number ten: BIT TORRENTS!!! SWEET JESUS I BET THE SUPREME COURT WISHES THEY NEVER FUCKED WITH NAPSTER! TV shows, entire albums, fuck – whole discographies – of any band, whether they suck or not, are there for the taking. If Bit Torrent was a store at the mall, a mall that also had a GameStop, Best Buy, SunCoast Videos (or whatever that video store is called), and an adult book store, the Bit Torrent would act as a black hole and just fucking consume those wussy "capitalist ventures" in the name of EVERYBODY TAKE THIS SHIT BECAUSE IT'S FREE AND ONLY CHUMPS AND DUDES IN BANDS PAY FOR IT. "Support live music" is totally my thing. But I'll download your album, if you just promise to come back to my city next year so I can pay to meet you. I don't buy CDs. That's for people who still watch MTV. Although I did buy that sweet stereoscopic Tool album. Great driving music! The whole album is listenable.
And finally The Elf Wax Times – it's got to be the best thing since marijuana, our top keyword. This place means more to me than season 22 of the Simpsons. Funnier than Nickelodeon's "Doug." Twice as entertaining as a new Law and Order. More culturally relevant than Monica Lewinski. More up to date than Weenus, Incorporated. Better than you. And huffing paint since 2008. FUCK YEAH GOLD BLING BLING – TASTE HEAVEN!
So fuck you, Internet. I have to be awake in three hours. Plus I'm drunk. Fuck you internet. You don't understand me. Your whole operation is fuck you internet! I will kill you. After Hussein Backara shuts you down, I will choke you to death in a field. Stupid internet.
Google Elf Wax. Click "fuck you." It's gotta be an option there somewhere.