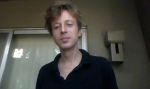 Lebal Drocer, Inc. is proud to introduce the brand new Bit Train, which carries the Anonymous spokesperson long distances in a reformative practice called diesel chamber therapy. Adoring crowds welcome the train's arrival with a warm chant of the enterprise:
What, did they get ya Barry?
Years in the slammer, for sharing a link!