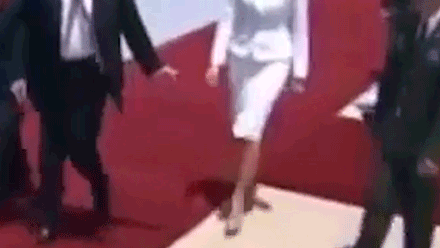 A group of women from the Focus on the Family for Profit charity foundation cried out in protest Monday after soon-to-be-Former First Lady Melania Trump disrespected the President in front of their Israeli hosts by selfishly swatting Donald's hand away as he reached out for support.
The protest, spearheaded by James Dobson seeks to bring the Bible back to righteous indignation. Dobson believes Donald Trump was right to reach for his wife's hand, who owes him affection and sex, and all the calcium in her bones to his babies until the skeleton withers away from osteoporosis, and she dies of old age.
"I didn't dedicate my life to fighting gay rights and abortion, to see newborn baby girls grow up to disrespect their men," Dobson bellowed from a Jumbotron over the Salem Civic Center Arena. "Jesus ain't the only one who saves good Christian souls. Donald literally saved that harlot through marriage from the Soviet Bloc, and this is the thanks he receives? Who's the cuck now. Just you wait until God hears about this, Melania!"
Others disagree, and were offended by Trump's outward display of public affection.
Dan Sloan of Jerry Falwell Ministries and Dean of Admissions at Liberty University in Virginia, said Donald's attempts to hold hands in public were an affront to the wholesome Christian family platform on which he ran for election.
"We do not permit hand holding on campus or in the greater Lynchburg area," Sloan said. "And if we catch you playing footsie or grab-hands on the street? Well, let's just say, they don't call it Lynchburg for nothing."