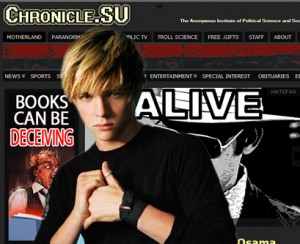 The Chronicle website is stupid and wrong about everything. Why do people read this shit? It is the lamest ever.
Here, the "satire" around anonymous has grown increasingly satirical in nature, which is not funny.
And the ads are just pointless, they don't even make any money! An advertisement for Grady Warren? That guy will never win! And what's with all the joking? These are serious topics, people.
I am NOT butthurt, because I was one of the FIRST to hate the website. Chronicle.SU is fail and AIDS. anons who just showed up out of nowhere and started hating the chornicel are a bunch of summerfags
I don't think abortion is funny anymore and I especially don't think Pseudonymus' article about God was factually accurate. It might even be illegal. Low blow assholes, God is dead and He can't be here to defend himself anymore from slander.
I hope this site gets DDoS by Ryan Queery and Assoc.