Thursday, th3j35t3r decided to reveal what a truly pitiful charlatan he is. In d0xing the Chronicle, th3j35t3r was so incredibly full of fail that I actually felt embarrassed for him. Although most of us write under pseudonyms here at the Chronicle, we do not attempt to conceal our identity like th3j35t3r because we aren't criminals. There's really no point in d0xing us, except perhaps as part of a veiled threat. And we do not fear th3j35t3r.
A mouth-breathing little twerp could figure out who we are just by looking around the site a little. In fact, it's happened before. Skiddie fanboys of Anonymous repeatedly published the name of one of our former writers with no good reason. In response to their stupidity, I anonymously posted my own fabricated d0x on AnonNews and fooled the hivemind completely. Every time I insulted Anonymous, they posted the d0x and I laughed at their gullibility. It is well documented that I created those d0x as a joke, and th3j35t3r published them anyway, unwittingly trolling himself into oblivion. He is less skilled than the average rage-filled teenybopper Anon.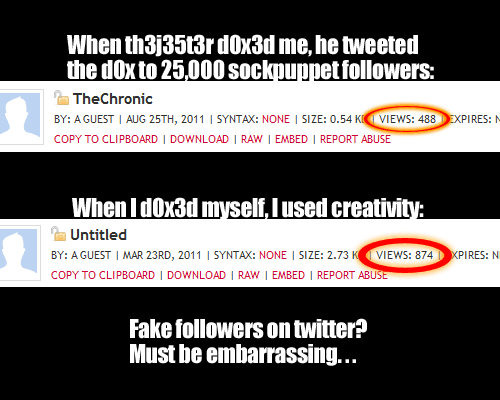 If that wasn't stupid enough, th3j35t3r also published the information of innocent people to maintain his increasingly fragile pretense of skilled hacktivism. Niall Coffey has never written an article for us, and Alexi Halloway is just a random Facebook fan. Oh noez! Th3j35t3r has revealed the secret identities of the first few people who liked the Chronicle on Facebook. What an elite hacker! 
Th3j35t3r is unable to strike at Chronicle.SU in any meaningful way, so he's become desperate to protect his ego. He tattled on us to Blue Host and complained about how we've violated the terms of service. What a motherfucking elite hacker!
The d0xing and the snitching have had no effect on the Glorious Chronicle, as th3j35t3r can't harm us in any way. If he had any fans, we might be concerned, but apparently he has only two or three.