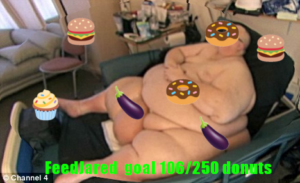 INTERNET — They say the camera can add ten pounds, but Twitch Partner FeedJared has given new meaning to th
e old adage
. The wide angle lens in FeedJared's cam, necessary for capturing his ever-expanding body shrinks his hands and feet, lending the streamer a worm-like screen presence similar to Jabba the Hutt. He laughs often, smiling at a cascading chat
flush with
food emojis
and eggplants of encouragement
.
FeedJared accepts tips only in food deliveries, and consequently has arranged bookshelves to each side of his bed to contain it all within easy reach.
These shelves
are stocked
with food
by Amazon employees, who are seen constantly filing in and out of the room
as the daily stream goes on, sometimes for up to 16 hours.
The unofficial FeedJared subreddit says Jared has reinvested his income into a cloud of surveillance drones, each equipped
with powerful spotlights and
cameras, to capture every
crevice
of his record-breaking growth in stunning 4K.
By 1,500 lbs, FeedJared became the heaviest man to have ever lived. Now at one ton, he has become a historical anomaly.
"I could not have done it alone," FeedJared slurred, as a stagehand plugged a twinkie into his open mouth. Damage to his arteries and blood vessels in the brain have rendered him weak, and paralyzed on one side. "I could not have gothn here without my f
riendth in chat in their generothity
."
The novelty
Twitter
account Twitch
F
eedsJared,
organizes fans to coordinate
Jared
'
s
diet for maximum weight gain, and
is largely responsible for the
rapid gain of the latest
500 pounds
through a strategic program of
sweet cakes, beef ribeyes, and whole sticks of butter.
FeederJT, owner of TwitchFeedsJared, said, "We're a community of people who are held together by our common love for feeding Jared. We just want him to be happy, and it is just a bonus for us when he thanks us by name as he eats the various food items that we select for him. We're part of something really special, here."
At a recent hospital visit, Jared broke the Guinness World Record for largest bowel movement for a human, and the picture of a nurse carrying the massive 38 lb fece went viral on social media, which brought him an equally huge influx of support, tipping his overall weight to over one ton.
During his glow-up announcement on TikTok, a nurse wearing tan scrubs is seen in the background, hurtling soiled towels into a laundry cart to the tune of Rod Stewart's "Do Ya Think I'm Sexy?" She sees the camera, and quickly moves out of frame.
Jared beckons at her, his hand gripping a turkey thigh, grease flicking off of the deep fried bird.
"I would like to thank my nurth," Jared blurted out, after swallowing a fistful of peanut butter. "She keepin' my blood sugar low, my spirits high, oh — and she cleans my butt."
"Darlita, pleathe come show yourthelf on thtream."
To which Darlita is heard replying from the background, "No, senor, mi familia esta muy enferma de COVID-19."
FeedJared turns back to the camera.
"Women!" he exclaims. "Can't live with 'em. Can't live without 'em."
Doctors for FeedJared have given him weeks to live
, but fans are confident he will continue to smash records.
"I think it's just the beginning for Jared," FeederJT writes, "With support like this he can hit two tons, maybe three tons. Nothing like this has ever happened before in all of history. We have the technology to do anything."
Related News