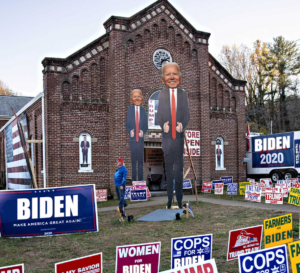 BOONE'S MILL, VIRGINIA — Police drew a thin blue line across Boone's Mill, early Friday Morning, as they raided the Boone's Mill Church of Biden. Minister Whitey Teylor, who presided over a Satanic rape baptism in honor of President Biden, was shot on sight after police were heard shouting, "He's got a gun!" Teylor survives in critical condition at Roanoke Memorial Hospital, where he is awaiting weapon charges.
Chief of Police Freddy Jaksov said during a pseudoevent that members of law enforcement are scheduled to enter his hospital room and place a gun in his hand, proving his fingerprints were on the murder weapon.
Refuse of Biden merchandise filled Boone's Mill after police officers tore down cheap cardboard signs littering the church's exterior, by driving through them in a department issued Mercedes-Maybach S 680. Several mysterious children were saved from so-called rape baptism at the hands of demonic Democrats. However, upon learning these children were illegal immigrants, police promptly and abruptly put them into cages, a practice that thankfully began under Barack Hussein Obama, but that the police nonetheless support.
"The police are animals," Teylor said. "Cages are the only thing they know."
Reverend Teylor is charged with "shitting up" Boone's Mill, where people are already too ugly, following with an ordinance passed by the drunken city council late Thursday night. After the raid he is facing much more serious charges. He is facing 57 charges of conspiracy for the satanic communist pedophile network and 91 relating the the abuse and smuggling of illegal minors which, according to chronicle.su pediatrician Dr. Angstrom H. Trusmeboy, is not that many.
"I've seen a lot of trafficking," Trusmeboy said. "There isn't much demand for these ones, it's a niche market, and he's going to take up space here in my shop. Best I can do is a thousand and five, firm."
Jaksov later told reporters, "If you find any Biden worshipers out here, report them to us at once, and we will raid their asses, with our batons. You know what they're doing! We know what they're doing. Let's crack some skulls, January 6 style."
Jaksov took the condom off his baton, and threw it on the ground at his feet.
[UPDATE: Fingerprints identified as belonging to Teylor were found on the murder weapon discovered in his hand by police who, by chance, found it on his person as it left their position into his right hand. According to sources inside the global collective unconscious, he is now fucked.]