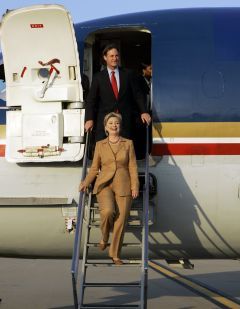 WASHINGTON, D.C. — Hillary Clinton has been a busy woman since exiting public office. She can be found, these days, shuttling around the country in limousines and Learjets on a promotional tour for her new magnum opus, Hard Choices. The book chronicles her time served as Secretary of State under Ayatollah B. Hussein Obama's glorious administration.

Released to rave reviews, the book has been called "a modern-day woman's meditation on Freedom, reminiscent of Rand, Woolf, and Morrison," by the Wall Street Journal.
Noted feminist Judith Miller, the woman whose broad shoulders bear the brunt of the blame for the liberation of Iraq, wrote in an Op-Ed for the New York Times, "Mrs. Clinton weaves a narrative so imagined, so inspired, you would think she is making it up!"
However, the book is not without its detractors.
Dr. Angstrom H. Treub'adore, the Internet Chronicle's resident Cisgender Theorist, said in an interview today from his Paris apartment, "The only Hard Choice the former secretary faced while serving was whether to shoot, shock, hang or bang, preferably with an exceptionally dirty hypodermic needle, the 'whistle-blower', more like 'wiener-blower', Chelsea Manning for his crimes against the Gov, aided by the conard, the file de pute, the noted surprise sex enthusiast, Yulian Mossad," referring to the Wikileaks scandal that erupted during Clinton's tenure as secretary. Just one of the multitude of Hard Choices described in the book.
But Mrs. Clinton has found favor within the artistic community, which has embraced her latest collection of stories.
Katy Perry, the eleven-time Grammy nominee songstress responsible for such national anthems as: "Waking Up in Vegas", "Last Friday Night (T.G.I.F.)", "Ur So Gay", and "By The Grace of God", tweeted at the potential 2016 Democratic nominee that she is ready to shed the last trace of whatever artistic integrity may still reside within her. The pop singer suggested that "she would write [Clinton's] theme song."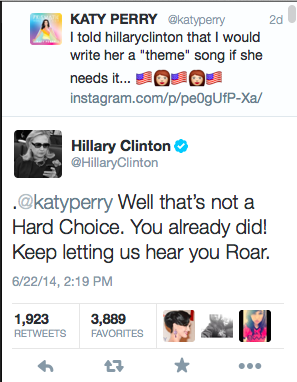 The two were seen exiting a Brooklyn recording studio late Monday night with producer Puff Daddy and  former Attorney General Janet Reno, who is rumored to have a featured verse on the song, tentatively titled "Hard Choicez (Ode to Elian)".
Clinton's ascension to the Presidency seems all but uncertain. She is treading an unprecedented path, paved with the ignored plea's of the poor and lined with the Hard Choices of which lobbying agencies to publicly allow into her pocket book, and which to keep private.
With her book tour, an arousing success, and the media's resistance to meaningful questions about her past, the only choice left for Mrs. Clinton to make—perhaps the Hardest Choice of all the Hard Choices she has had to make—is when to actually announce her intention to run for president of our permanent dynasty. God bless this neoliberal paradise, the greatest God damn nation on Earth, The United States of America.