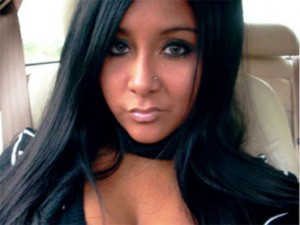 SEASIDE HEIGHTS, N.J. — The bloated corpse of Snooki was allegedly recovered and then dumped back into the sea Tuesday after the MTV star went missing early Monday evening.
When whaling experts off the Atlantic Coast noticed a disturbance in their dragnets, they claim to have pulled up the bloated, lifeless carcass of Jersey Shore starlette Nicole Elizabeth Polizzi the reality television "actress" widely known as Snooki.
Coast Guard Captain Jacob Funkhouser, who found the body, said he could not believe his eyes. And since this particular whaling expedition was a capitalist venture, Funkhouser said, there was just not enough space in the hold of the S.S. Bismarck and jettisoned her stinking, lifeless body.
[pullquote]It was definitely her.
Captain Jacob Funkhouser, S.S. Bismarck[/pullquote]
Internet Chronicle reporters interviewed Funkhouser on the deck of the S.S. Bismarck. "It was definitely her," Funkhouser told reporters, slamming a defiant fist down on the platform where he sat. "Even though it was all purple and puffy, I'd recognize that face anywhere. Now that I look back on it, we could've made more money selling the corpse back to her filthy rich guido family than I'd get from a big, juicy Sperm whale."
Though he lamented losing the chance to capitalize on her fame, Funkhouser said he does not regret the decision to jettison Snooki's body, saying "America dumped Bin Laden, so I did the same for Snooki."
Snooki leaves behind an infant child whose birth raised controversy after critics labeled her a "negligent monster . . . incapable of motherhood." (NY Times, 2011)
Known for drinking and getting punched in the face by better people, Snooki capitalized on a baffling book deal that was displayed prominently in bookstores alongside, or ahead of, the works of sociologist Cornell West, popular scientist Niel DeGrasse Tyson and satirist David Sedaris.
It is unknown how Snooki was initially blown out to sea. Sources close to the reality TV star said she was drinking profusely during a Hurricane Sandy welcoming party, and disappeared in her Scion Monday night, a car known to float in less than six inches of water. Authorities have declared her a missing person but are currently occupied with more important recovery efforts.