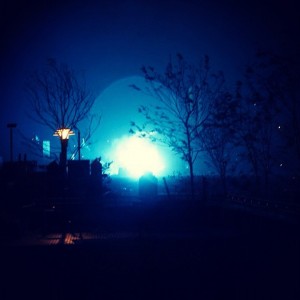 SOUTHAMPTON, N.Y. — HURRICANE SANDY HAS SWEPT THE NORTHEAST, LEAVING A TRAIL OF INCOMPARABLE DESTRUCTION. A COMBINATION OF HIGH TIDE AND STORM SURGE HAS FLOODED THE MONTAUK AND OYSTER CREEK NUCLEAR FACILITIES,  NOW REPORTEDLY AT SUPERCRITICAL MASS. MELTDOWN IS IMMINENT, AND AREA RESIDENTS ARE BEING FORCEFULLY EVACUATED TO NEARBY FEMA CAMPS.
THE CONEY ISLAND HOSPITAL HAS CAUGHT FIRE AND THE FDNY IS UNABLE TO RESPOND BECAUSE BRIDGES HAVE BEEN SHUT DOWN DUE TO HIGH WINDS AND FLOODING.
UPDATE: THIS CONEY ISLAND FIRE RUMOR MAY HAVE BEEN A HOAX BUT THE ANNOUNCEMENT IT IS A HOAX MAY ITSELF BE A HOAX. THERE IS TOO MUCH MAYHEM TO TELL. HACKERS MAY HAVE INFILTRATED THE TWITTER ACCOUNTS OF ALL LOCAL AUTHORITIES. TRUST NOTHING BUT THE INFALLIBLE CHRONICLE.SU

FACILITIES HOUSING NUCLEAR WEAPONS HAVE BEEN FLOODED, AND SCIENTISTS FEAR AN ACCIDENTAL DETONATION DUE TO THE NEUTRON-INSULATING PROPERTIES OF SALT WATER.
DO NOT LEAVE YOUR HOME UNLESS IT IS ON FIRE OR IN THE DIRECT GAMMA RADIATION ZONE OF THE NUCLEAR INCIDENTS, AND THEN ONLY WITH USE OF A RADIATION SUIT. A MAKESHIFT RADIATION SUIT MAY BE CONSTRUCTED WITH DUCT TAPE AND ALUMINUM FOIL. RESCUE TEAMS HAVE BEEN UNABLE TO MOBILIZE SO THE NATIONAL GUARD AND THE FEMA YOUTH CORPS HAVE BEEN ACTIVATED. MARTIAL LAW HAS BEEN DECLARED IN 14 STATES. COOPERATE WITH FEMA IMMEDIATELY OR YOU WILL BE SHOT.